IFFMAS Induction of Officers, demo and fellowship
The Intercontinental Federation of Filipino Martial Arts School was formally formed last December 23, 2007 when the officers were inducted by C/Supt(Ret.) Vicente P. Ponteras, the invited guest and speaker of the event at the 3rd floor of Group K Building, Bgy. Tangub, Bacolod City. Below is the program of Activities and the oath of the officers:
PROGRAM OF ACTIVITIES
INVOCATION
Mr. Ernest Christian Montoyo
PAMBANSANG AWIT
Mr. Lafayette Diamante
HISTORY OF IFFMAS
Mr. James Sy, Jr.
INTRODUCTION OF MEMBERS SCHOOLS
Mr. Narciso "Hansy" Alojado
INTRODUCTION OF GUEST SPEAKER
Mr. Elmer V.Montoyo
INSPIRATIONAL MESSAGE OF GUEST SPEAKER
CSupt (Ret.) Vicente S. Ponteras
INDUCTION OF OFFICERS
CSupt (Ret.) Vicente S. Ponteras
MARTIAL ARTS EXHIBITION
Members Schools
FELLOWSHIP
EMCEE
Mr. Hansy Alojado
OATH OF SERVICE
ON MY HONOR, I _________________________ DO SOLEMNLY PLEDGE to do honor to myself by observing , following and implementing all the rules and guidelines of IFFMAS as mandated by its Constitution and By-Laws to the best of my ability without fear or favor. SO HELP ME GOD!

Founding Members:
Arjula-Malingin- Isaac T. Guarra
BACSMA – Joel Casiple
Black Falcon Main – Joery Amante
Centralian Fighters Martial Arts Club- Diomedes Mamugay
Fight Club – Edwin J. Tusil
Guarra Style Modern Arnis and Self Defense Association Estanislao "Eslao" T. Guarra
Kalantiaw Defense Society – Dominador D. Ferrer
Negros United Fighting Arts Academy – Jose Mancesa
Original Filipino Tapado Long Stick Fighting Assoc.Inc.Benefredo M. Lobrido
Philippine Dynamic Arnis – Rogelio H. Galvarole, Sr.
Philippine Integrated Martial Arts Academy –
Filipino Tang Soo Do Association, Inc. – Elmer V. Montoyo, Sr.
Sacred Ki Art of Filipino Footfighting – Ricardo B. Filipinas
Tapondo International Federation Inc.–Negros Chapter/ .
Tribu Hangaway Roy R. Flores, Sr
Wild Judo – Ronnie A. Rocillo/
Joselito Tumulto
Yaming Arts – Fortunato "Atong" Garcia
Yasay Sable – Paterno V. Yasay/
Ferdinand Y. Gayoles
Pictures taken during the activities last December 16, 2006.
Registration during the IFFMAS induction activity.
The guest having a conversation with the members prior to the ceremony.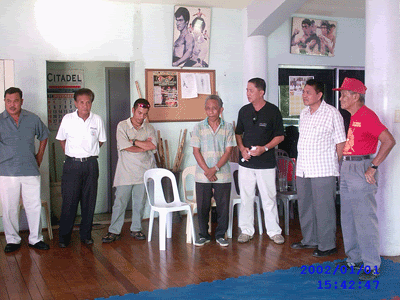 Happy Moments with the invited guest before the activity.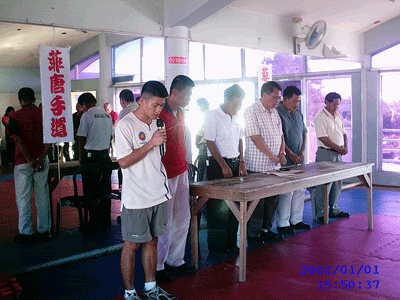 The invocation prayer given by Mr. ChinChin Montoyo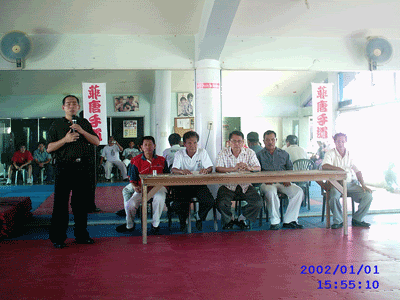 Mr. James U. Sy, Jr. narrating the history of IFFMAS.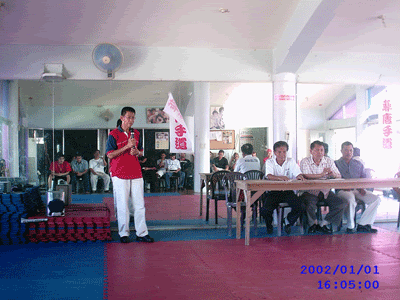 Mr. Elmer V. Montoyo introducing the guest.
The Guest, C/Supt. (Ret) Vicente P. Ponteras, giving an inspirational talk.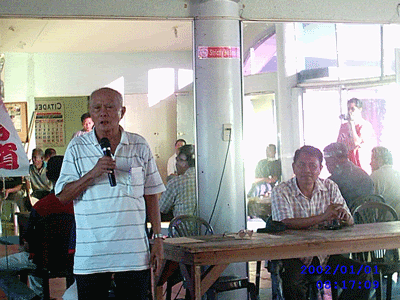 Atty. Jalandoon gave the parting words.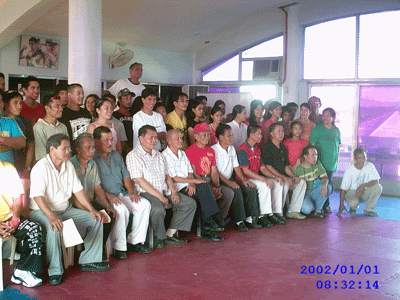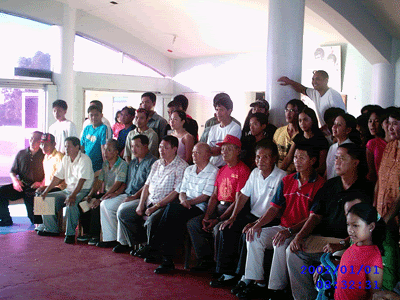 Picture taking of the group and guests prior to Fellowship.
The Fellowship after the induction of officers.
Here are some demonstrations performed by FMA grandmasters:
GM Doming Ferrer and Joefrey Deriada doing "Pang-agaw" with stick and w/o stick.
GM Bebing Lobrido and Ms. Bing Tacsagon doing the basics strikes of Original Tapado.
GM Isaac Guarra and student doing the sinawali of ARJUKA school.
GM Joe Mancesa and student doing some unique techniques of their school.
GM Islao Guarra of Guarra Modern Arnis and student demonstrating basic techniques of their school.